Ugreen 15W 10000mAh Magsafe Wireless Power Bank
Fast Charging & Strong Magnetic: Up to 15W wireless fast charging, premium panel, and magnetic suction technology.
One for All & No More Queuing: PD20W(USB C) and QC22.5W(USB A) outputs, fast charges 3 devices. Quick fuel-up in 30 mins.
Slim & Lightweight: Compact and foldable stand for single-handed use and ideal viewing angle.
Power for the Whole Day: 10000mAh capacity for 2.3x iPhone 14 charges.
Superior Safety & Airline Friendly: Intelligent protection, airplane-friendly for worry-free travel.
Pay with Ease
Trusted Delivery
Overview
Ugreen Power Bank Comparison Table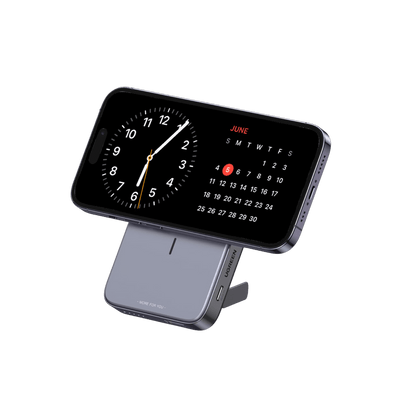 Ugreen 15W 10000mAh Magsafe Wireless Power Bank
£49.99
Compacity
10000mAh
25000mAh
Charging Tech
Qi+PD3.0+QC3.0
PD3.0+QC3.0
Charging Port
1 USB C+1 USB A
2 USB C+1 USB A
Cable QTY
1 USB C-C Cable
100W USB C Cable
Specs
SKU
15086
Capacity
10000mAh (3.7V, 37Wh)
Battery Type
Lithium Polymer Battery
Input
USB-C: 5V3A, 9V2.22A, 12V1.67A (20W Max )
Output
USB-C: 5V3A, 9V2.22A, 12V1.67A (20W Max)
USB-A: 4.5V5A, 5V4.5A, 5V3A, 9V2A, 12V1.5A (22.5W Max)
Magsafe: 5W / 7.5W / 15W Max
Charging Protocols Supported
Input:
PD3.0, PD2.0, FCP, AFC, BC1.2
Output:
USB-C: PD3.0, PD2.0, QC3.0, QC2.0, FCP, AFC, APPLE 5V2.4A, BC1.2
USB-A: SCP, QC3.0, QC2.0, FCP, AFC, APPLE 5V2.4A, BC1.2
Magsafe: Qi
Protection Features
Overcharge Protection, Over-discharge Protection, Short Circuit Protection
Dimensions and Weight
11.3 x 6.8 x 1.9 cm; 223.96 Grams

Ugreen 15W 10000mAh Magsafe Wireless Power Bank
£59.99